There's a buzz of excitement in Charlotte, North Carolina!  This locally-owned and operated olive oil and balsamic vinegar tasting store is now open at The Shops at Piper Glen (near Trader Joe's) on Rea Road.  Olive This! offers a 'try before you buy' experience with over 45 varieties of the finest imported extra virgin olive oils and all-natural aged balsamic vinegars.  All of our oils and vinegars are imported to our store in Charlotte, NC and bottled locally on site.  Take a look inside the store or come in for a visit, we'd love to show you around.
Discover. Taste. Love.
---
Featured Items
Fire Up the Grill!
With the spring weather here, it's high time to fire up the grill.  We just added a brand new six-pack sampler to our line-up just for the grilling enthusiast in your family. We call it 
Licensed to Grill.  
As you may already know, our
six-pack samplers
include six 60ml bottles of our favorite flavor profiles packaged into a protective gift box specially designed for easy mailing. Perfect for Father's Day in June.  The new combination includes three EVOOs (Garlic, Chipotle, and Cilantro & Roasted Onion) and three balsamic vinegars (Pineapple, Espresso, and Honey Ginger). This is the type of Father's Day gift that benefits the whole family as well as Dad!  Come into the store to sample these flavor profiles or
order online
!
---
New Page on the Website – Recipes Listed by Product
So you've used our
Garlic EVOO
in the
smashed potatoes
recipe and now you want to know what else you can make with this wonderful ingredient?  Many of you have asked us for a quick way to see all our tested recipes listed by a particular product. We've just created a new page on our website called
Recipes Listed by Product
 that does just that. Look under the
Recipe
menu above, or
click here
. Be sure to check back often as this new page will be updated each time we post a new recipe.
---
Private Parties at Olive This!
Need a new and creative venue for your next wine tasting, book club or social gathering?  You and your guests will enjoy after-hours access for personal tours, private tastings, recipe ideas and our recommended pairings. Bring your favorite food and beverages to serve your guests. The venue and staffing for the event are both free of charge. Call for more details.
---
The Discounted Dozen Program (In-Store Special)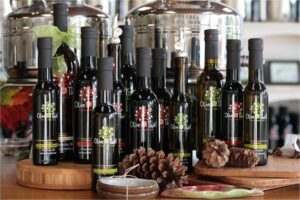 Why not get a break when you're stocking up?  Come into the store and get 10% off when you buy any 12 bottles of oil or vinegar products.  Mix and match any flavor, any size and if there's a dozen, there's a discount. Perfect for the holidays!
---
Custom Gift Baskets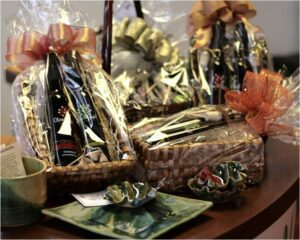 Create your own combinations of olive oils, balsamics, food items and accessories and personalize your gifts to suit the occasion. Whether they are corporate gifts, hostess gifts, birthday or anniversary, many of our customers have found our decorative gift baskets an ideal alternative to the traditional bottle of wine. Click here for details.
2,965 total views, 12 views today